Book / Series Review - Daisy Jones & The Six
The 60's / 70's era of Rock is one of my favourite genres of music. I was a fan of Fleetwood Mac by the time I was six. I grew up listening to music that was "before my time". When bellbottoms made a comeback in the 90's when I was a teen, and I was too impatient to wait for them to hit the stores in my corner of the world, I sewed triangles into the side seams of my jeans. Needless to say, the minute I heard about this book that's written like a rockumentary – a behind the music tell-all about a Fleetwood Mac-esque band that was the biggest band in the world in the 70's and then vanished right at their prime, I knew I needed to read Daisy Jones & The Six, by Taylor Jenkins Reid. What I did not anticipate, was how it would stay with me long after. The interview-style format is the perfect vehicle for the story itself, with a backdrop of the rich vibrant world of the sunset strip—Carole King at the Troubadour, The Byrds at The Whiskey... Sex, Drugs, and Rock n Roll at it's finest. Until it wasn't. I gushed about the book a little at the time, but I felt like I was fangirling almost too much over this fictional band, so I left it at that.
Cut to almost three years later, when the trailers started coming out for the series on Prime Video, and there I was, equal parts excited and scared to see this story come to life. I did what any book lover does—I started re-reading it in anticipation of the show's premiere, and then of course, I binged all 10 episodes as fast as the release schedule would allow me. I've had about a week to process the show's finale and to reflect back on the book and the series as a whole, and I am still under the spell of Daisy Jones & The Six. I literally wanted to know these people and be inside of this world.
First off, I think it's important to note that like any adaptation, the series deviates some from the book. Most of the changes I was fine with, and I won't beat a dead horse with the ones I wasn't, because I read somewhere that Taylor Jenkins Reid said it's important to treat the show and the book as two separate things. Obviously certain elements lend themselves to better dramatization when spun a little differently/externalized. I also noticed that they would use parts of the book out of order, which did not bother me at all. In fact, I was always glad to see another nugget from the book. Obviously though, if you're one of those people who's a stickler for a series staying exactly true to the book, you might have issue with the show.
I've heard mixed reviews about the series, and I'm not here to judge other people's opinions. Surely though, one thing we can all agree on, is that the show is perfectly cast. Riley Keough. Let's be real, she IS Daisy Jones. Not only does she look like the woman on the cover of the book, she can act, and her voice is incredible. I had no idea who she was before this, but once you realize she comes from rock royalty, her talent makes so much sense. With her sheer caftans and gypsy bangles, Daisy is obviously heavily influenced by Stevie Nicks, but there are some subtle nods to Linda Ronstadt and Joni Mitchell there too.
Sam Claflin is the perfect Billy, to me. His denim on denim screams early Springsteen and so much about him—his low-slung jeans, his long wavy hair, the way he grips that microphone, evokes an air of Jim Morrison. His vocals are amazing and his stage presence is so good, even in the first episodes when the Dunne Brothers are still playing covers of The Animals and CCR at small local gigs. There's a line in the book, where Rod Reyes says: "If you took nine guys, plus Mick Jagger, and you put them in a line-up, someone who had never heard of the Rolling Stones before could still point to Jagger and say, "That's the rock star. Billy had that."
I mean, let's face it, this is why women love rock stars.
Same goes for the rest of the characters. Every single one of them, in my opinion, is well cast. Camila (Camila Morrone), Billy's wife, has a real Ali MacGraw feel, and then later, Bianca Jagger, as she comes in to her own as the wife of a famous rock star. Karen (Suki Waterhouse) the band's sexy keyboardist, I think of as a cross between Christine MacVie and Brigitte Bardot. The cast rounds out with Graham (Will Harrison), Billy's younger brother, on guitar, Warren (Sebastian Chacon), the drummer, and one of the funniest characters on the show, Eddie (Josh Whitehouse), bass player with a chip on his shoulder, Simone (Nabiyah Be), disco queen and Daisy's best friend, Teddy Price (Tom Wright), producer, and Rod Reyes (Timothy Olyphant), manager.
The first couple of episodes started off a little slow, as they set up the story and introduced us to the band and Daisy separately. By episode three we start seeing the band in the studio. Teddy brings Daisy on to lend some vocals to Honeycomb. The chemistry between Daisy and Billy in that first scene together is electric, and this is where you sit up and the show goes next level. Teddy says there's a rattle in Billy's mic (there isn't), and suggests they sing into the same mic. He knows it's going to be magic, and oh yes, he was right. Teddy Price knows what's up.
One of the greatest things about the book that translated well to the show were the female friendships. They all really cared about each other, and supported each other, even in the midst of turmoil. They weren't judgmental or competitive. There was a lot of respect there. I also love that different characters have different recollections of the way things happened. It's comedic, and it actually makes a lot of sense that they would all sort of remember things in their own way, especially given they were under the influence of drugs and alcohol for much of what they're discussing. It's also a reminder that everything that's told to the interviewer presents an opportunity to read between the lines.
Love triangles are in abundance in this story, with themes of the right person at the wrong time, loving somebody you can't have, and being in love with two people for very different reasons. Billy grapples with addiction, and Daisy represents temptation in every way. Camila was the water to Billy's fire, but Daisy was his twin flame. That struggle was the fuel for the entire story. I could talk a lot more on that, but I'm trying not to make this a 10-page post.
The music, of course, is the front-runner of the series. I can't imagine, as a writer, what it must've been like to hear those songs come to life. Granted, they did write new songs for the show, as opposed to using the lyrics Taylor Jenkins Reid included in the back of the book, but still. Just being a part of something when the likes of Marcus Mumford and Jackson Browne are writing songs for your characters to perform. I mean, can you say author goals?? I was so surprised to learn that Marcus Mumford wrote Look At Us Now / Honeycomb, but when I listen to the song again—the building energy, the rockin' harmonies, it should've been obvious. And the fact that these actors were not musicians prior to this series should not go unmentioned, either. They spent most of the pandemic working with vocal coaches, learning how to play their instruments, and literally becoming a band for this show.
After watching the series, I find myself once again wondering if it's normal to be so into a fictional band that you're streaming their record over and over? These characters and this show will be living rent free in my head for a while. I highly recommend the book, in both print and audio forms, and I highly recommend the series. Daisy Jones & The Six is not a romance novel – but if you love romance, you will love this book because there are so many obstacles to overcome on this journey and the struggles are just so good.
Some highlights:
When they first hear Honeycomb on the radio. It reminded me a little of the scene in That Thing You Do when they hear their song on the radio for the first time and they're running down the street screaming.
Episode 4 when Billy and Camila throw a party and everyone is there and Karen is on the piano tinkering, and they all chime in on "Ooh La La" by The Faces.
Episode 5 – Daisy and Billy finding their song-writing groove.
Episode 8's show in Albuquerque: When Daisy leans her head on Billy's shoulder during The River. It's everything.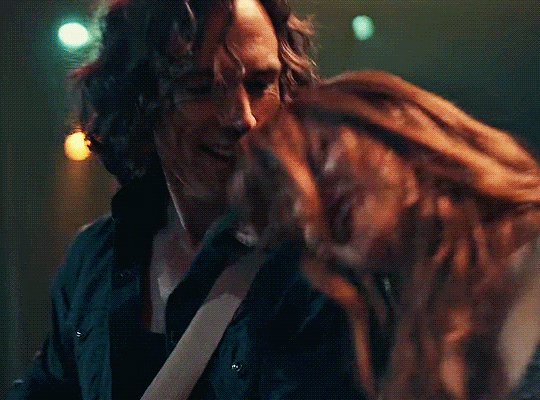 Actually, pretty much any scene with the band, either in the studio or onstage and we get Billy and Daisy feeding off each other, especially in episodes 9 and 10 where their chemistry just crackles.
Seventies fashion in all its glory. Halston, Kimonos and Caftans.
Teddy Price. Any scene with Rod. Any scene with Warren.
The ending, of course.